Profile Information
---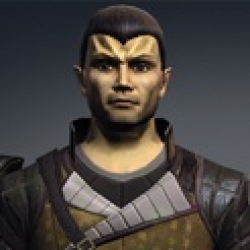 General Statistics
---
Cadet Tovan He'nom


Sex: Male
Race: Romulan
/ Human
Weight: 90 kg
Height: 190 cm
Age: 34 years old
Current Assignment
---
Currently Awaiting Assignment
---
Physical Description:
Dark brown eyes, black hair, muscular body, pointy ears.
Family & Personal History:
Born on Romulus. Lost family in attack on Romulus. Enlisted in Starfleet Academy.
Educational History:
Graduated at San Francisco Starfleet Academy at age of 27.
Medical History:
Never was seriously ill only had a coupe of headaches time to time.
---
Service Record
---
11408.20 - Assigned to the U.S.S. Hyperion as OPS
11409.13 - Removed from active duty