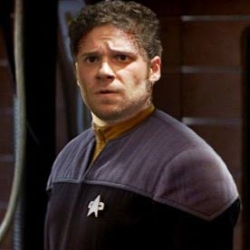 Science Officer's logs - U.S.S Hyperion
NPC SCI Ensign Raifi Teryl w/ CMO LtJG Rousseau - 11507.27
Last edited by
Einar S
on Sat Aug 01, 2015 3:18 pm, edited 1 time in total.
Captain Jonathan Rome
Commanding Officer
USS Hyperion
---
Raifi sat down on the biobed, the PADD given to him by Ensign Stark still clutched to his chest. "I had my former physician send over my medical records Doctor Rousseau...and I would prefer my...condition stay private". He looked around the room, taking in the group of doctors and nurses running around. He was not used to serving on a starship. His whole career had been spent at Daystrom, doing research and paperwork....this was all new to him.
Isabelle looked at her PADD and brought up Teryl's medical files. "Yes, your files were sent over this morning. And don't worry, doctor-patient confidentiality is one of my specialties…", she reassured him. She scrolled through the information, taking note of several important points. "Have your isoboramine levels been checked recently?"
"Not since I left Daystrom....." he leaned forward and lowered his voice "to be honest I don't like space travel that much, and Doran get's upset....he's a former host" he explained before continuing. "He's a worrier".
She nodded. "I see.. All right, let's check those levels first, and then we'll continue with the normal physical." She took out a tricorder and begin scanning him for the neurotransmitter. "Lay back for me please."
Raifi laid back, his PADD still clutched to his chest. "This ship is so big Doctor Rousseau. How do you find your way around?"
She grinned. "You know, when I first got here as a cadet, I thought the ship was really big too. For the first few days I'd get lost just going from my quarters to the mess hall. And then there was the time I ended up in the zero G training arena when I wanted sickbay three.. But you learn your way around quickly. The computer is very helpful if you get lost.." She continued the scan, moving down to his chest and abdomen. "I'll need you to move that PADD for me.. "
"Oh! Yes! Yes...sorry Doctor Rousseau" Raifi moved the PADD down by his side and stared up at the ceiling. "I never been a Doctor, perhaps the next one should be a Doctor....quite beneficial to be able to heal yourself....however" he added "Krain is a hypochondriac so maybe that would not work....I can just hear the arguments now...oh dear no"
He allowed her to scan his abdomen, knowing well that his conditions made it pertinent the symbiont was always under observation. The council would know if it wasn't. "I don't like the computer, it's not personal enough. I prefer people"
She chuckled. "I've always preferred people.. that's why I became a doctor." She finished scanning for the isoboramine, giving the tricorder a few moments to show the results. "So how long have you been joined with your symbiont?"
"Four hundred and thirty-five years.....no wait....." he added, looking at his palm as if reminding himself. "....seven years I believe".
"Quite a while then.." She looked down at the tricorder. "Your isoboramine levels are at 80%, which is within normal range. Have you had a benzocyatizine treatment recently?"
"My last injection was the week before I left Daystrom. I remember the date exactly because it was Lieutenant Charles' birthday and he brought cake. It was chocolate with banana....have you had a banana? It's quite good!" he smiled, then cleared his throat as he suddenly remembered his last Doctor's orders to stay away from sweets.
Maybe he put that in the medical records for her to see?
"So what do you do for fun around here?" he asked, keen to change the subject.
"It depends on what you like to do. We have the holodecks, a theatre, a gymnasium, four holosuites, an arboretum, and a lounge…" She checked the readings and gave him a lookover.
"So it sounds like you're due for another treatment. First though, I'll just get your vitals, then let's get your stress test out of the way.." She continued the physical, performing a series of routine scans, then motioned him towards a treadmill for the stress test.
Raifi glanced nervously at the treadmill. "Is that really necessary Doctor Rousseau? I feel better already!"
Damnit Tolin....that sweet tooth will be the death of me.
"Just a quick injection and I'll be back to my normal self" he smiled his sweetest smile, hoping to win the good Doctor over.
"All you need to do is run or walk at your fastest speed for ten minutes while I measure your heart rate, breathing and blood pressure. You can do it today, or I can have you come back tomorrow, but I can't clear you for full duty unless your physical is complete. However.. I can do the injection first if it will help you feel more comfortable.." she smiled reassuringly at him.
Raifi raised his arms in mock defeat and stepped up on treadmill. Ten minutes later he slumped forward on the controls, his whole body soaked in sweat and his breathing labored. "Is this how you..... greet all.... newcomers Doctor Rousseau?"
Isabelle guided Raifi over to the nearest biobed. "Have a seat, Ensign. You did fine. Congratulations, you passed your physical."
She waved a nurse over. "Please go replicate a cold glass of water for Mr. Teryl, plus a hand towel.." she said, entering a few notes into her PADD. "I'm going to recommend a daily exercise routine, 30 minutes a day to start with; and let's kep this treatment going, shall we?" She loaded a hypospray with the dose of benzocyatizine, and pressed it to his neck. "You're just going to feel a little pinch.."
Raifi sighed as he stuck his neck out, why did they do this to him? "Thank you Doctor Rousseau...you are most kind"
She depressed the button on the hypospray, the benzocyatizine dose flooding his system with a hiss.
Raifi smiled as she removed the hypo from his neck and motioned for him to stand "Thank you Doctor Rousseau. I assume I am now cleared for duty?"
"Yes, you're cleared. But I need you back here in two weeks for your next treatment. In the meantime, let me know if you need anything. Also, your next physical is in six months..keep up that exercise routine and you'll do just fine."
"Yes Doctor" he said with a big smile on his face. The sooner he was out of this sweaty uniform the better. "I will keep up the exercise, yes ma'am!"
Raifi you pathological liar. Our next host is going to love that.....let's hope he's a better fit for the program than you are
.
He grabbed the PADD from the biobed and clutched it to his chest "It was a pleasure meeting you Doctor Rousseau. I hope to see you around" Of course you will you idiot, she's senior staff. "Stupid"
"Pleasure meeting you too. Don't forget to make an appointment for two weeks from now. Have a good day .."
"I will. Thank you" Raifi bowed slightly, then headed for the exit. "Erm, what deck is this again?"
"Deck seven.."
"Ahh yes. Of course" he glanced at the PADD before heading out. "Now where are my quarters....."
Captain Jonathan Rome
Commanding Officer
USS Hyperion
---
Raifi is gonna be a handful isn't he?
Nice intro log, you two.
---
Who is online
Users browsing this forum: No registered users and 4 guests