Moderator: James Greenman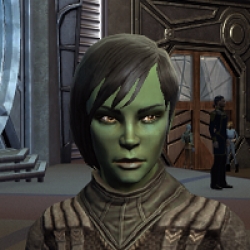 SD 11402.24
Inala was now a fan of Captain Rome. He was cool, calm, collected, and exuded an aura of experience; he'd 'been there' before, and it showed, and it was greatly needed on a ship whose senior staff consisted mainly of officers fresh out of the academy. While she was concerned for Captain Brax, and hoped he'd pull through, she felt reassured with Rome in command.
She wasn't as sure about Lieutenant Feyna; something seemed off about her. Just a little, anyway. It was clear that she and Rome had some history, though she wasn't sure what kind. She couldn't just be some officer he served with once; she seemed too...
involved
for that to be the case. Captain Rome seemed to trust her, though, so she would as well.
Cadet Soule was a different story. He was different altogether, really; he clearly had a number of prostheses, and while she wasn't able to look at his medical record, she'd heard some rumors about how he got them. Most of them varied wildly, but they all seemed centered around the Dominion War. Given his apparent age, he had to have been very young when he was injured. She was sympathetic on that subject.
She was less sympathetic when it came to tampering with the ship, however. He'd broken through the standard lockouts with a bit too much ease, and she had to wonder how. Was there more to his cybernetics than was visible? Did he gain access to information above his rank and if so, how? Did he have outside help?
Inala sighed and tried to focus on the task at hand. All they could do was put more system security in place, and let the Captain handle it from there. Hopefully it could all be done peacefully; having hostile Klingons in proximity made the prospect of potential sabotage even worse. While she trusted the Hyperion to win a toe-to-toe fight, her advanced tactical systems would mean nothing if she was taken down from within.
"As long as I have a want, I have a reason for living. Satisfaction is death."
- George Bernard Shaw,
Overruled
---
Pezzley Snipes



Posts: 336
Joined: Fri Feb 07, 2014 5:49 pm
Location: Plymouth, United Kingdom
Ahahaha. I love it C.J.
C. J. Short wrote:Cadet Soule was a different story. He was different altogether, really
I've read the log about 3 times now, and I cannot help but smile

Vincit Omnia Veritas - The truth conquers all things
.
TAC - LtJG. Soule Douglas - USS Hyperion NCC-77989 / S.T.A.R. ECS
ENG - Lt. Ilaihr - USS Atlantis NCC-1021-D
CSO - LtJG. Hamlet - USS Sentinel NCC-79088
---
great log CJ

I'm looking forward to tomorrow night!
Captain Jonathan Rome
Commanding Officer
USS Hyperion
---
SD 11403.03
Inala was uncomfortable with the idea that there wasn't a practical solution to the Arcybite problem. Operations officers were supposed to be problem solvers, as were engineers; 'nothing' was not supposed to be an option. She could think of unpractical solutions, of course: encase probes in armor and cause them to deeply impact all of the asteroids, for instance. It would take forever and would use several ships' worth of probes, but it would work. Probably, anyway.
She sighed and turned in her chair, watching out the main viewscreen as they navigated the asteroid field, closing on a particular large one. She wondered what the Klingons were looking for. It had to be of some importance; whether they were here on the orders of the High Council or were rogue, they were risking an awful lot.
Maybe if they used the primary and secondary sensor arrays in conjunction...
It had to do with this missing Federation archaeological expedition, she was sure; she believed in coincidences, but not ones
that
large. Some kind of ancient weapon, she figured, though that only served to make her uneasy. If that were the case, these Klingons couldn't have it. No one could, in her estimation, but the Klingons were the immediate concern.
She thought back to one of her courses at the academy; History of Sensor Technology, an elective in her second year. For one assignment, they'd visited an old naval yard in the San Francisco Bay. She recalled being terrified at the confined space of one of the submarines, how everything was cramped, yet sparse. It had seemed so fragile compared to modern technology. The sonar systems had seemed particularly unrefined; no directional control at all, just an omni-directional signal that bounced back if something were big enough and close enough.
It had worked, though, and there was something to be said for the lack of refinement. If it had been too sensitive, each 'ping,' as they called it, would send back countless signals to the receiver, making the whole thing useless. At least, as it was; maybe if they had more computing power, and a secondary sensor method, they could filter out the chaos a bit, and map with decent precision the location of
everything
nearby.
Inala's eyes widened as the answer slapped her in the face. She turned in her seat and began working on the operations that would be necessary to weed out the general sensor noise from the asteroids. The deflector could bathe the area in particles, and by using the sensors in conjunction, perhaps they could ignore the general feedback, and isolate the collision of those particles with the asteroids, and, more importantly, the ships moving between the asteroids.
It was a long shot, but it was better than nothing.
"As long as I have a want, I have a reason for living. Satisfaction is death."
- George Bernard Shaw,
Overruled
---
Really looking forward to her pitching this idea better tonight! Great log CJ

Captain Jonathan Rome
Commanding Officer
USS Hyperion
---
That would be unwise



Posts: 974
Joined: Sun Feb 02, 2014 3:47 am
Location: Vancouver, BC
Character Name: Rhodri "Griff" Griffiths
Great log, CJ! Looking forward to the mission tonight.

Star Trek: Engage Game Manager

Game Director -Sigma Rho Station & U.S.S. Sentinel
---
SD 11403.17
Inala tried to make herself as small as possible as disruptor fire flew over her head. She berated herself for not bringing a phaser, despite his dislike of the things. She'd read enough to understand that high ideals like pacifism were near-impossible to maintain when it came to life-and-death. They weren't going to afford her the courtesy of not shooting at her if she was unarmed.
She looked across the way to Lieutenant Feyna and Bontecou. They were in trouble, especially if these four decided to call their friends over. Inala looked at her surroundings for something she could use, either to cause a distraction, or to take out some of their attackers. If this place really was built by the Tkon, then she had no idea how to interact with their technology; to her knowledge, this could be the most intact Tkon location the Federation had ever found.
Her mind raced as she tried to think of something to do besides cowering. She looked all around. Then she looked at herself. Then she looked down to her feet.
Then she got a really bad idea.
"As long as I have a want, I have a reason for living. Satisfaction is death."
- George Bernard Shaw,
Overruled
---
That would be unwise



Posts: 974
Joined: Sun Feb 02, 2014 3:47 am
Location: Vancouver, BC
Character Name: Rhodri "Griff" Griffiths
Nice log, CJ. Looking forward to seeing what Inala has for us this week.

Star Trek: Engage Game Manager

Game Director -Sigma Rho Station & U.S.S. Sentinel
---
Jonathan sipped off the bottle and leaned back in his chair, his eyes on the viewscreen. This was home. For days, he had felt out of place...now finally he felt at peace. The past few days had been tough on him, emotionally and physically. The Captain had almost died, the crew.....mostly inexperienced had barely kept it together, relying on humour to get through the day. Perhaps they were stronger than he had thought.

Inala groaned, lightly clutching her forehead as she doubled over in momentary pain. The door hadn't opened like it was supposed to; perhaps that was what the maintenance order was about. She stood up, shifting her toolkit a bit before noticing that the holodeck was, in fact, in use. It wasn't supposed to be, of course. No one had been scheduled for this time.

She checked the readout by the door:

"USS Scimitar Bridge Simulation" it read.

"The hell?" Inala whispered. "Computer, who's in holodeck 2?"

"Holodeck 2 is occupied by Captain Jonathan Rome," it answered. Inala's eyes widened a bit as curiosity, and a few other things, started to pull at her. She keyed her entry code; fortunately, the Captain hadn't locked it, and the doors slid open, her stepping inside cautiously.

"Occupied" he slurred, gazing at her from over his shoulder. "Wait....did you reserve this cupboard?"

Inala's eyes widened a little more, shocked to see the Captain so inebriated. She imagined it had something to do with the ship. She wasn't overly clear on the Captain's past, but she knew his route here had been unusual, to say the least. There had been rumors that he'd been in a coma for some time, that something had happened to him. She found it hard to believe. He'd seemed almost invincible on the bridge, like some sort of mythic figure. Perhaps that had just been her, though, she wondered.

"I-I'm sorry, sir," she stammered, regaining her composure. "This unit was scheduled for maintenance. I hadn't expected anyone to be in here."

Jonathan grinned and turned his attention back to the viewscreen, the simulation of warp drive giving him the impression of motion...combined with the scotch, it made his head dizzy. "Don't worry about it Emeric.....scotch?" he asked, raising the bottle, his back to her.

She smiled some, slipping off her toolkit and setting it aside. She wasn't sure how comfortable this would be, but she'd been wanting a chance to get to know the Captain more. He had impressed her greatly on the bridge. His poise in the face of danger had been inspiring, to say the least. She'd met Captain Brax only once. He seemed like a nice man, and she was sure he would have been a highly capable Captain, but, if given the choice, she got the sense she'd follow Captain Rome into hell more quickly than Brax.

"Thank you, sir," she said. "Computer, give me a small glass," she said, holding out her empty hand. A small drinking glass materialized, a bit more slowly than it should have; she knew what she was supposed to fix, now. She handed the glass over to Rome.Jonathan poured her a full glass, then motioned at Idrani's chair by his side.

"Sit, Ensign. Drink, Enjoy. That's an order....not correctly IN that order though," he said. Inala smiled politely, and moved to the indicated chair, the Executive Officer's chair. She tried not to read too much into it as she sat, taking a sip of the scotch as she watched the viewscreen. She did her best to keep her face stoic as the liquid went down; she wasn't much of a drinker.

"Is this your old ship?" she asked, trying to break the ice.

"Yes...the U.S.S Scimitar, NCC-80826, Akira class cruiser....my ship" he said and sipped off the bottle, watching the stars move past the ship at warp 9.973...the fastest he had ever made her go.....right at the end. "My home for many years"

She watched him sip, then looked at her glass, trying not to cringe as she wondered how much his germs had gotten into it. She turned her attention to the viewscreen, watching the stars move faster than she'd ever seen.

"Is she going somewhere?" Inala asked.

"Home" he said, looking down...."I never got to take her home. I wasn't there, for the end...." She looked over at him, sensing his sadness. She'd never Captained a ship, obviously, but she imagined not being able to see her off would be difficult.

"I'm sorry," she said, her voice laden with sympathy. "The Akira is a fine class, especially with a good Captain," she finished, putting another smile on her face. Jonathan cleared his throat, then took a big gulp of the bottle.

"Thank you Emeric." He adjusted his uniform jacket and sat up straighter. "I never imagined I'd be back in command to be honest....with Brax hurt...I had to." Inala continued to watch him, and the expressions on his face. She was beginning to paint a picture of this man. He seemed a tragic figure, here, pining for his lost ship. It made his earlier poise all the more impressive.

"Lucky for us," she said, her smile a warm one, now. "If you don't mind my saying, of course."

She could see a small smile on his face, but quickly enough it disappeared again, followed by a sip of his bottle. "We got lucky, don't forget that....." he turned and reached over, topping her glass. "Brax liked you, all of you....handpicked you."

Her smile lessened a bit, and she forced down another sip of the scotch, wondering briefly how long it would take to affect her, and then wondering if it already was.

She hadn't known that she'd been hand-picked, especially given the change of position from Operations to Engineering. It raised a lot of questions, both about Captain Brax, and what her instructors might have been telling him. It didn't matter, though. This was no longer Captian Brax's ship.

"He's not here," she said, looking down at her glass before glancing over at him again. "What do you think of us, sir?"

Jonathan chuckled quietly. "Honestly... I think sending you out into the field was Starfleet's biggest mistake since the Romulan wars... you are all inexperienced, green... no offense, and your egos are too large for this tiny ship."

Her smile disappeared now, and she was surprised how much his criticism hurt. She couldn't argue with the lack of experience; from what she understood, the majority of the bridge crew were on their first assignment. She had never thought of herself as someone with a large ego, though. She had thought herself rather professional, in fact, in spite of everything that had been going on. Perhaps that estimation of herself counted as ego. Perhaps she had come off as full of herself.

"I'm sorry you feel that way," she said quietly, taking another sip. "That's why we need you, though," she continued. "We've been handed one of the most advanced ships in the fleet, and we barely have any idea what we're doing. With you, though... well, I can't speak for the others, but I felt more confident with you in command." She looked down at her glass.

"Like I was a real officer," she finished, feeling somewhat deflated.

"And you are... you all are," he said, and for the first time since coming on board, he felt the years. "Being inexperienced isn't a bad thing, it just is a fact... it just reminded me of taking command of the Scimitar so many years ago now..." He motioned at a PADD lying on his armrest. "Starfleet Command want's me to take command, permanently or until a replacement can be found."

Inala glanced to the PADD, then to him, then to her drink, unsure what to say. She was happy to hear that he'd be staying, but his opinion of the situation seemed less enthusiastic. He missed his old ship, and his old crew, and she doubted he would feel right at home again, even if he acted like it on the bridge.

"We're not the Scimitar," she said quietly, taking another sip of her drink. "And we're not her crew. We're the Hyperion." She looked up at him, her eyes searching his expression, her voice delicate. "We won't replace what you lost, but we'll make you proud, sir."

Jonathan glanced over at her, and smiled "That you did. You really did you know" he reached over and patted her on the shoulder, then took a swig. "Today was a good day."

Inala's smile returned with the small bit of praise. Captain Rome was a bit of an enigma to her; blunt with his honesty and criticism, but inspirational at the same time. For all its inexperience, the crew would be in good hands with him in command. She knew it in her heart, and it made her feel warm. It was that or the scotch, anyway. She took another drink, and watched the viewscreen.

"It was, sir," she said.

He nodded and smiled. "Now, drink, and enjoy. Any minute now we'll be home."
"As long as I have a want, I have a reason for living. Satisfaction is death."
- George Bernard Shaw,
Overruled
---
That would be unwise



Posts: 974
Joined: Sun Feb 02, 2014 3:47 am
Location: Vancouver, BC
Character Name: Rhodri "Griff" Griffiths
That was really touching. Great log, you guys!
Star Trek: Engage Game Manager

Game Director -Sigma Rho Station & U.S.S. Sentinel
---
Who is online
Users browsing this forum: No registered users and 3 guests